NOMAEK Fastival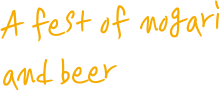 Get your draft beer at only 2,000 won,
with some nogaris for only 1,000 won!
This is a deal to be found only in Moraenae Market
In the heat of the summer, enjoy a cool pint of beer on the streets of Moraenae Market to cool down the heat and take home the pleasant memories.
The festival features congratulatory performances, beer drinking competition games, roulettes,
recreation games, quiz, and many other events!
At Moraenae Market, you can also enjoy various discount events on top of the beer festival!